M a r k e t N e w s
Zimbabwe: Govt Splurges U.S.$50 Million On Military Vehicles
Posted on : Monday , 10th August 2015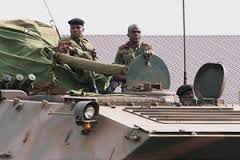 The cash-strapped Zimbabwe government has splurged about US$50 million on 633 vehicles which include all-terrain troop-carrying trucks, water cannons, buses and equipment, mostly used by military and police, as it secretly bolsters its instruments of repression to combat any possible Arab spring-style uprising due to the explosive socio-economic situation in the country, it has emerged.
Senior government officials said this week in order to cover up the security vehicles which authorities are anxious to hide, the consignment in the bill of lading is described as cars for the "Ministry for Tourism and Hospitality activities, especially for promotion of domestic tourism, and supporting international tourism, disaster management, anti-poaching activities, peace missions and other related purposes".
"The official and legal description of the consignment in the bill of lading for cover-up purposes is that they are cars for the Ministry of Tourism but the vehicles will be used for civilian, police and military purposes," one senior government official told the Zimbabwe Independent yesterday.
"The consignment consists of a wide range of multi-purpose vehicles, including security ones."
The manufacturer of the vehicles Ashok Leyland Ltd -- an Indian automobile manufacturing company based in Chennai -- was awarded the contract for supply of 633 vehicles by Zimbabwe after it got a US$49,92 million from the Export-Import Bank of India. Under the contract, Ashok Leyland, besides supplying the vehicles, will also provide training to Zimbabwe's technical staff in operation and maintenance of the vehicles, suggesting they are military automobiles.
The contract was financed by Exim Bank through its buyer's credit under national export insurance account to the tune of US$49,92 million extended to Zimbabwe's Ministry of Finance and Economic Development. Sources say the vehicles were shipped from Mumbai on June 28 and arrived at the South African eastern seaboard port city of Durban on Tuesday this week.
Reports from India say a flag-off ceremony was held at the Mumbai Port Trust on June 28 on the occasion of shipment of vehicles and spare parts by Ashok Leyland to Zimbabwe via Durban.
The flag-off ceremony was attended by Exim Bank chairman and managing Director Yaduvendra Mathur, deputy managing director David Rasquinha and General Manager Harsha Bangari in the presence of officials from Ashok Leyland and authorities from the chipping company.
During the ceremony, Mathur reportedly said that Exim Bank's buyer's credit-national export insurance account programme is a unique financing mechanism that provides a safe mode of non-recourse financing option to Indian exporters and serves as an effective market entry tool to traditional as well as new markets in developing countries.
He said the programme is aimed at serving India's national interest of export promotion and furthering the nation's economic objectives.
Mathur said the current supply of vehicles to Harare will enhance the bilateral ties between India and Zimbabwe.
On its website, Ashok Leyland says it is second largest manufacturer of commercial vehicles in India, fourth largest manufacturer of buses in the world and the 16th largest manufacturer of trucks globally.
The company also manufactures defence vehicles, including a wide range of automobiles from rapid intervention vehicles, field artillery tractors, light recovery vehicles, water bowsers, truck fire fighters and fuel dispensers.
Source : allafrica.com