M a r k e t N e w s
Robert Bosch Gmbh to Headline the 21st Autoexpo Kenya 2018
Posted on : Tuesday , 1st May 2018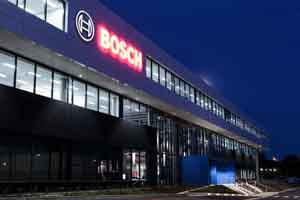 Robert Bosch Gmbh, global heavyweights in technology and services will lead Autoexpo's impressive exhibitor line-up in Kenya this May. The company has a reputation of providing automotive products of the highest quality on an international scale and has partnered with Autoexpo this year to maximize their productivity in the fast-growing markets of East Africa.
Bosch has had a constant presence on the African continent since 1906, across a wide range of sectors. In recent years, Bosch has focused primarily on providing affordable solutions that fit local requirements and have gradually established themselves in ten African nations.
The company has aligned themselves with Autoexpo this year in Kenya, which holds the key to the markets of several East African countries like Tanzania, Ethiopia and Uganda due to its strategic geographical position in a region that has been reporting some very impressive growth statistics.
The Autoexpo exhibition is held annually in Kenya and its 21st anniversary is expected to continue attracting industry officials from East Africa's biggest, newest and most exciting companies alongside companies from the international stage looking to find new opportunities in Kenya and East Africa all under one roof.
Seen as East Africa's Prime Exhibition on Automotives, Spare Parts, Accessories and much more, the exhibition connects Africa to the world and aims to open business opportunities and showcase the newest products and latest developments in the automotive industry to an audience that is over 4500 strong. In addition, the event features participants from across 30 countries worldwide with in excess of 10,000 products on display. The 21st Autoexpo Africa 2018 will take place at the Kenyatta International Convention Center (KICC) in Nairobi from 17th to 19th May 2018.
Source : bizmap.com