M a r k e t N e w s
E-parking launched in Mombasa to boost revenues
Posted on : Tuesday , 19th February 2019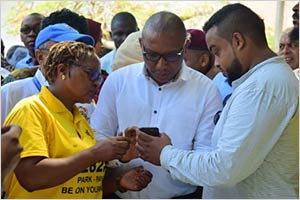 Mombasa government brings out a major milestone as the county launches electronic vehicle parking (e-parking) to raise revenue collection.

This is the commencement of a journey that will watch the Governor Hassan Joho-led administration digitise services in all its 10 departments.The automation of parking fees collection will promote efficiency and stanch revenue leaks, said Finance executive Mariam Mbaruk.

Adding on to it she said, "Following the full automation of parking fees services, Mombasa County citizens will from now on not required to make cash payments for parking fees. Instead, they will just do so at the touch of a button on their mobile phones".

The e-parking services aim an estimated 6,000 vehicles that use car parks in the central business (CBD) district on daily basis.

The automation journey started in 2014, stated Ms Mbaruk, focusing on the five main revenue generating streams. "We want to automate all our revenue generating streams for the county to go cashless.

"We want the revenue streams to integrate so that systems can correspond with one another; e-parking is the first solution," she said.

"We are doing it through a USSD from Safaricom. You only need to type *282#. With time we want to include other providers."

They will henceforth no longer have to display parking fee tickets on their windscreens.
Source : www.nation.co.ke