M a r k e t N e w s
Volkswagen To Recover Investment in Rwanda
Posted on : Wednesday , 29th May 2019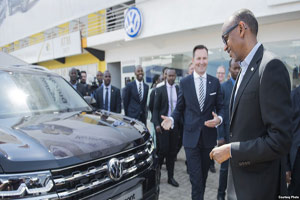 German car maker, Volkswagen (VW), taking a bet on the upward trajectory of car ownership, last year launched a US$20 million car assembly plant in Kigali, the capital of Rwanda in an expansion drive across Africa.
Quickly after, VW also launched its robust mobility service, Move, with a new business model that has it controlling the entire value chain from providing its own cars to its own drivers. With its ride sharing and ride hailing services, and plans to launch other services–Move Kids for children commuting to and from school, and Move Drive, which will allow customers to rent cars for a period of time–VW seems to be banking on its mobility service, rather than its car sales, for profitability in the East African country.
VW has plans to assemble 5,000 cars (of the Polo, Passat, Teramont, and Tiguan models) annually. But importing raw material from countries like South Africa and Kenya mean the costs of cars assembled in Rwanda are slightly higher than obtainable in some of its other markets.
While the Rwandan-assembled VW Tiguans are expected to cost around US$37,719 (RWF32.4 million), prices start from US$22,860 (RWF 20.7 million) in the US following price slashes last year prices and US$31,279 (RWF 28.3 million) in South Africa.
Findings from the Average Salary Survey says the annual average net salary in Rwanda is RWF 12.2 million. Hence, one will require two years worth of this net salary, untouched, to purchase VW's most affordable car in its new plant, the VW Polo (RWF 20.5 million). Nonetheless, VW argues that in comparison with other competitors in the region, their prices are still affordable and the upward trajectory of car ownership will work in their favour.
On the other hand, a government bent on supporting the growth of its local industry is a huge plus for the car maker, a luxury it hasn't enjoyed in some of its other African markets.
While VW has said it is working on car mortgage packages that will help those in this new market afford their cars, it's mobility service is proving more valuable, banking on the country's increasing profile as a technology hub in Africa and its business-friendly environment.
Last year at the launch of the plant, VW said 300 out of the 1,000 cars planned for assembly in the first year was dedicated to its mobility service, which first opened to Kigali-based companies as Move Share, giving businesses access to fully managed fleets of new VW vehicles.
Stiff competition nonetheless lies ahead. Uber's plans to enter Rwanda were botched after its failure to meet undisclosed license requirements. Uber has since shelved its immediate plans to enter Rwanda but its eyes have yet to turn away completely.
"The moment they meet the requirements, they will start operating," says Emmanuel Asaba Katabarwa, the Head of Transport regulation department at the Rwanda Utilities Regulatory Authority.
Estonian ride hailing company, Taxify, which has trumped Uber in Nigeria, is also said to be eyeing the country. Kenya's Little was also reportedly planning to launch in Rwanda in June 2018 around the time when VW launched its assembly plant but is yet to do so.
Source : africaznow