M a r k e t N e w s
Ford to begin assembly of Ranger pickup trucks in Nigeria
Posted on : Friday , 21st August 2015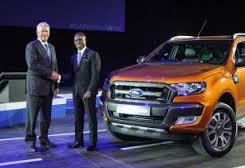 Ford Motor Company has announced that it will begin assembly of the Ford Ranger pickup truck in Nigeria from Q4 2015 as part of its expansion plans for the Middle East and Africa

The pickup will be assembled in Ikeja, situated in Lagos State. For the project, Ford is partnering with its dealer group Coscharis Motors, stated the company.

Ford Middle East and Africa president Jim Benintende said, "Assembling Ford Ranger trucks in Africa's largest economy is an important milestone in our Middle East and Africa growth plan. With Coscharis, we have the right partner and with the Ford Ranger, we have the right product to deliver a world-class truck that Nigerian customers want and value."
With this assembly plant, Nigeria will become the first African nation outside of South Africa, where Ford vehicles will be put together, added the company. Officials said that Nigeria is a priority market for the company in sub-Saharan Africa, as it is keen to support the West African nation's growing automotive industry.

The Ford Ranger is considered among the best-selling vehicles in South Africa. It can tow up to 3,500 kg of weight, wade through water up to 800 mm deep, and has 230 mm of ground clearance. Enabled with a 28-degree approach angle and 25-degree departure angle, the vehicle can take on steep terrain, stated Ford. There is an electronically-controlled transfer case that allows drivers in 4x4 models to shift on the fly from 4x2 to 4x4 high with a knob on the centre console. For low-speed torque or additional downhill braking, drivers can also engage low-range 4x4 gearing. An electronic locking rear differential helps to improve traction in difficult conditions.

According to the car manufacturer, vehicles will be assembled at a "semi-knockdown level", using body parts and components imported from South Africa. The newly-assembled vehicles are for sale in Nigeria only, stated Ford.
Later this year, an upgraded model of the Ranger will likely be launched, revealed the company.

The new assembly plant in Ikeja is expected to create around 180 jobs directly and indirectly, and will have the capacity to assemble up to 5,000 units annually.
Source : africanreview.com