M a r k e t N e w s
Going Green: Volkswagen Rwanda Debuts a New Motor Charging Station
Posted on : Wednesday , 31st March 2021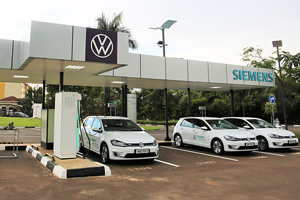 Volkswagen Mobility Solutions Rwanda unveiled a new charging station on Tuesday, March 30, thanks to a collaboration between the firm, Siemens, and Radisson Blue Hotel.

The new facility, located at the Kigali Convention Centre, is the second of its kind, following the one built in the Kigali Special Economic Zone.

The new station, according to Serge Kamuhinda, CEO of Volkswagen Mobility Solutions Rwanda, is a move toward more environmentally friendly transportation.

He stated: "This achievement is consistent with the country's vision of reducing carbon emissions and preserving the environment. Furthermore, this is a strategic location that will benefit both event organizers and participants who use electric vehicles, among other people."

A charging station for an electric Volkswagen Polo at the Kigali Convention Centre, which opened on Tuesday, March 30. Craish Bahizi took the picture.

"Three more charging stations are in the works, and we expect to open more and increase the number of electric cars as soon as the government policy on electric vehicles is revealed," he said.

Volkswagen started enrolling electric cars in the Rwandan market in 2019, and there are currently 20 of them in use by public institutions or as taxis.

According to the company, it is still in the data collection and analysis process, in cooperation with the government and other stakeholders, on issues such as the efficiency of the electric cars and their suitable requirements before enabling the public to begin buying them.

During the ceremony to inaugurate the new charging station, Environment Minister Jeanne d'Arc Mujawamariya praised Volkswagen's efforts toward green transportation.

"This contributes to Rwanda's transition to clean and green transportation," she said.

"Rwanda has promoted a green growth approach to economic development for more than two decades, primarily through pragmatic environmental policies and the preservation of our natural heritage. Investing in e-mobility is a logical extension of this strategy "She elaborated.

Meanwhile, Okechukwu Daniel Ogbonnaya, the Country Representative of Global Green Growth Institute in Rwanda, stated that a few factors must be considered for the country to be competitive in terms of e-mobility.
"It will take carefully formulated policies and legislation to draw forward-thinking, intrepid companies like Volkswagen Mobility Solutions to make it a reality," he said.
Source : www.expogr.com