M a r k e t N e w s
Kenya: KAM and AAAM Partner to Promote Automotive Industry Growth
Posted on : Wednesday , 26th October 2022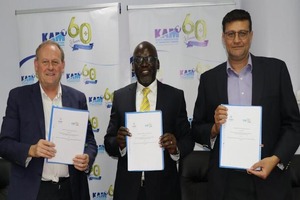 Kenya Association of Manufacturers (KAM) has joined with the African Association of Automotive Manufacturers (AAAM) to advance the automotive industry's sustainable development and expansion in Kenya.
The partners stated that the aim will be met through growing output, increasing trade, and boosting Kenya's automotive industry's worldwide competitiveness.
AAAM CEO Dave Coffey expected that a progressive strategy will improve Kenya's automobile industry's market share both domestically and regionally.
"The growing emphasis on value chain development and trade facilitation will drive demand for automotive sector products. An accommodating business climate draws investors who have successful automotive sectors, as demonstrated in Morocco and South Africa "Coffey stated.
"Through this cooperation, we will work together to increase scale, promote industrialisation, and deepen localization of items created by Kenya's automotive sector," Coffey added.
Tobias Alando, Chief Operating Officer (COO) of KAM, underlined the Association's hope that the relationship will boost the country's automotive industry.
"By working with AAAM, we will continue to create automotive policies aimed at promoting Kenya as a production and trade centre, integrating the East African Community into the value chain, and creating market connections for sector participants," he added.
The MoU was signed during AAAM's visit to Kenya to help participants learn about Kenya's automotive sector and connect with investors.
The cooperation was signed only weeks after KAM pushed Kenya's government to fix loopholes that prevent manufacturers from taking advantage of the Africa Continental Free Trade Area (AfCFTA).
At the time, Alando remarked that, while the trade agreement gives the best potential for the government to achieve its regional, national, and commercial goals, Kenya has yet to put in place measures to guarantee that the benefits it provides are fully realised.
Grace Wandera, Deputy Commissioner, Marketing and Communications at the Kenya Revenue Authority (KRA), expressed hope that the country will be better positioned to trade under AfCFTA.
Wandera stated that the KRA is putting steps in place to facilitate trade, and that they have automated systems that would cut the time spent clearing goods and lower the expenses suffered by businesses.
"We remain aware of the benefits of AfCFTA, such as job development, commodities mobility, and talent transfer. This will necessitate tariff harmonisation, capacity building on trade requirements, and process simplification and automation. We have also established call centres at all border crossing sites to assist traders and ensure smooth service delivery," Wandera added.
Source : qwrt.co